Prototypes and Detail Machining
Serving Military, Automotive, Aerospace, and Medical Manufacturers
Your parts to print and into production on time – that's the Quest way.
Our prototype and detail machining department specializes in tight tolerance, short-run production, and prototype machining. We operate three shifts, 24 hours per day.
Our best-in-class quality system is your assurance of parts manufactured to your specifications. Our proprietary schedule balancing system is our commitment that your parts are delivered on time.
"Part to Print" Is a Quest Industries Standard
Keep us in mind for any of your machining needs. We're ready to make your print or CAD file come to life.
"At Quest Industries, we're never satisfied with how we perform today, and always strive for a better tomorrow. We feel that, with the manufacturing process we have in place, everyone from the front office to the shop floor can improve what we do every day."
– Dennis Hoover, President, Quest Industries
Steps to Success
Your prototype or detail machining project will go through the following steps to ensure satisfaction: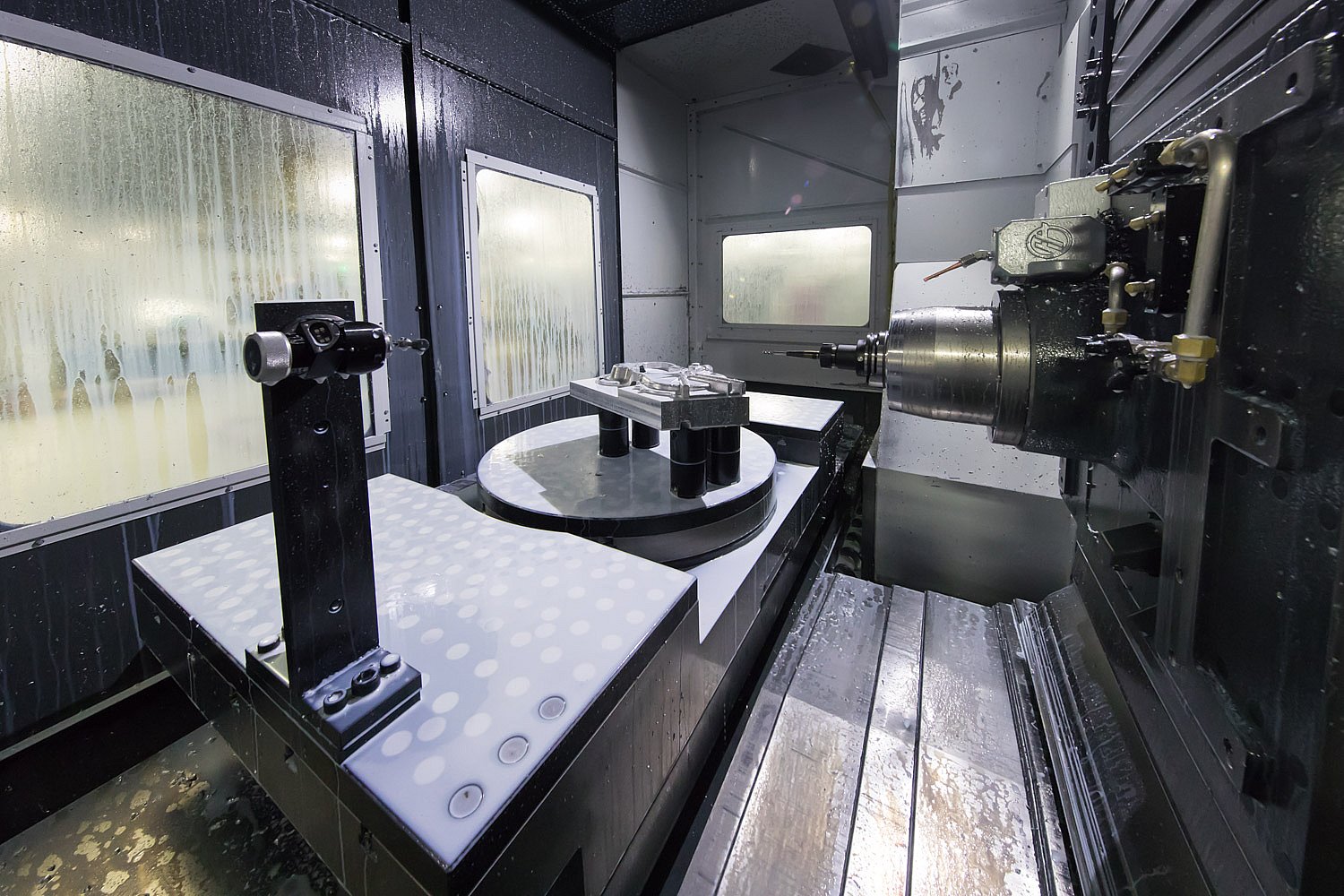 A dedicated account manager gathers all your information and enters it into our proprietary ERP system.
Next, your dedicated program manager will thoroughly analyze your project, ensuring that the manufacturing process is complete and robust.
A quality leader creates an inspection process with our quality software system. The inspection process is reviewed and approved by your program manager. Our "Quest Team" approach requires evaluation of your project by more than one person. This eliminates any chance for errors.
We then use our proprietary ERP software to schedule you project, based upon your target due date. The schedule is created in reverse, starting with your target date, and scheduling our labor and equipment to meet your target date. On-time delivery is assured because we spend time, up front, to correct any flaws or make any suggestions for improvement before cutting steel.
Our paperless reporting system, on the shop floor, instantly updates every aspect of your project. Monitors located throughout the shop floor serve as a quick reference for all departments. Computer tablets are used record all inspection records while the parts are on our machines. Instantly, any updates or concerns are noted and visible.
Our state-of-the-art quality lab is integrated into every step of your project, ensuring dimensional accuracy and other critical project expectations. Once final inspections are completed, in-machine, or by CMM, the electronic reports are uploaded to the job folder. These are sent to you before your project leaves our facility.
After final inspection, your parts are electronically scheduled for shipping
---
CNC Machining
Our 43,000-square-foot facility runs three shifts, which means we're available to you, 120 hours a week. Our 30 CNC machining centers and lathes each run close to 150 hours a week.

We specialize in tight tolerances and detail machining. We've served customers in the military, automotive, nuclear, and medical industries.
Quest Industries is ISO 9001:2015 and IATF 16949:2016 certified. Click the links to view or print either certificate in a new window.
We produce more than 300 injection and rubber mold tools a year. Our equipment capabilities are scaled to match most tool sizes. Our skilled CNC operators and advanced equipment allow us to work in parallel with molds and keep our processing in-house.
CNC Milling Equipment List
(1) YCM Double Column Vertical Machining Center (2016) 78.74" x 47.24" x 30" Travel, HSK-100 Spindle, 15000 RPM, 1000 PSI through Spindle Coolant, 40 ATC, FCS
(1) YCM NTV 158B (2018) 60.25" x 30" x 27.5" Travel, HSK-100 Spindle, 15000 RPM, 1000 PSI through Spindle Coolant, 32 ATC, FCS
(1) Makino A61 Horizontal Machining Center (2015) 28.7"X x 25.6" Y x 28.7" Z Travel, 14000 RPM HSK63A Spindle Taper, 133 ATC, FCS
(1) HAAS EC-1600 Horizontal CNC Boring Mill (2014) 64" X x 50" Y x 32" Z Travel, 30 HP / 50 Taper, 10,000 RPM, 50 Tool ATC, 1K PSI CTS, FCS
(2) Tree VMC 750 – 30" X x 20" Y x 20" Z Travel, 25HP / 40 Taper, PC-2100 Control, 4th Axis, FCS
(1) Tree 4024 – 40" X x 24" Y x 24" Z Travel, 30 HP / 40 Taper, PC-2100, FCS
(2) HAAS VF6/40 VMC (2005, 2008) 64"X x 32" Y x 30" Z Travel, 4th Axis, 30 HP, FCS
(1) HAAS VF8/40 VMC (2012) 60"X x 40" Y x 30" Z, 4th Axis, 30HP, FCS
(2) HAAS VF9/40 VMC (2007, 2013) 84"X x 40" Y x 30" Z Travel, 30HP, Coolant through Spindle, FCS
(2) Doosan DNM400 VMC (2008) 25"X x 17" Y x 20" Z Travel, 20HP, 12000 RPM Coolant through Spindle, FCS
(2) Doosan DNM500 VMC (2015) 40"X x 20" Y x 21" Z Travel, 25HP, 12,000 RPM Coolant through Spindle, FCS
(3) Doosan DNM650 Heavy Duty VMC (2010) 50"X x 26.3" Y x 24.6" Z Travel, 20 HP, 12,000 RPM Coolant through Spindle, FCS
(2) Doosan 4020L VMC (2008) 40"X x 20" Y x 24.5" Z Travel, 20 HP, 12,000 RPM Coolant through Spindle, FCS
(1) Makino F5 VMC (2010) 35.6" X x 19.7" Y x 17.7" Z Travel, 20HP/40 Taper, 20K RPM, accuracy: +/- .000060" POS, +/- .000040" repeatability Coolant through Spindle, FCS
(2) Doosan HP4000 HMC (2016) 23.6"X x 22" Y x 23.6" Z Travel, 14,000 RPM, FCS
CNC Turning
When it comes to machining parts, there are a lot of variables. CNC turning is suitable for prototypes and short-run parts.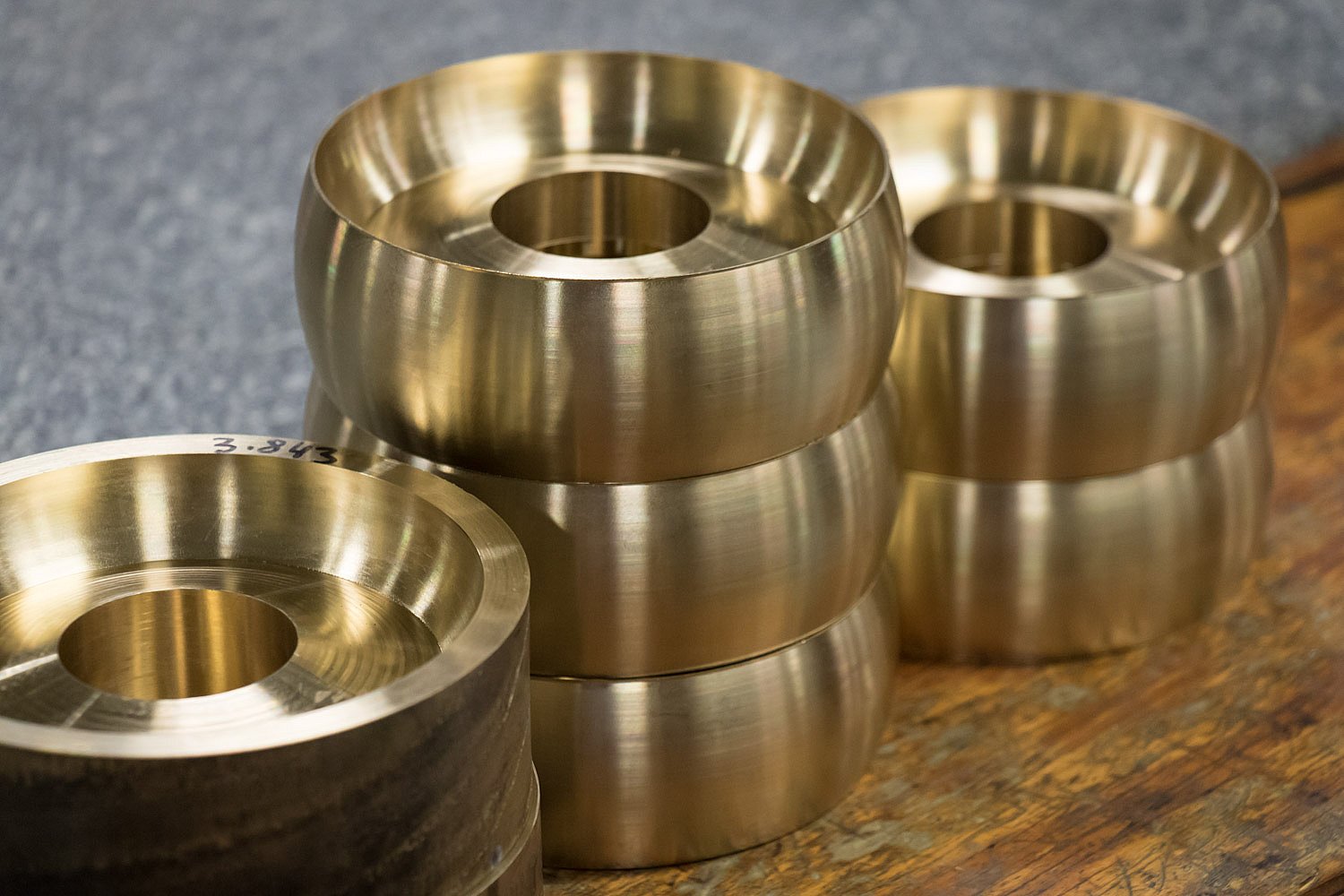 The factors we consider when determining if a part can be machined on one of our CNC turning centers are:
Number of parts needed
Material
Part outside diameter
Part geometry
Lead time
What is CNC Turning?
CNC turning takes bars of material held in a collet or chuck and rotates it while a cutting tool removes material. CNC turning is typically used to make cylindrical parts. Commonly performed with a lathe, turning reduces the diameter of a workpiece. CNC turning can be used on the outside of material to create a cylindrical shape, or it can be used on the inside of material to machine a cylindrical cavity.
Our sophisticated CNC turning centers can also perform a variety of milling and drilling operations. The Hardinge Conquest turning center, with two-axis capabilities, sets the standard for precision and performance.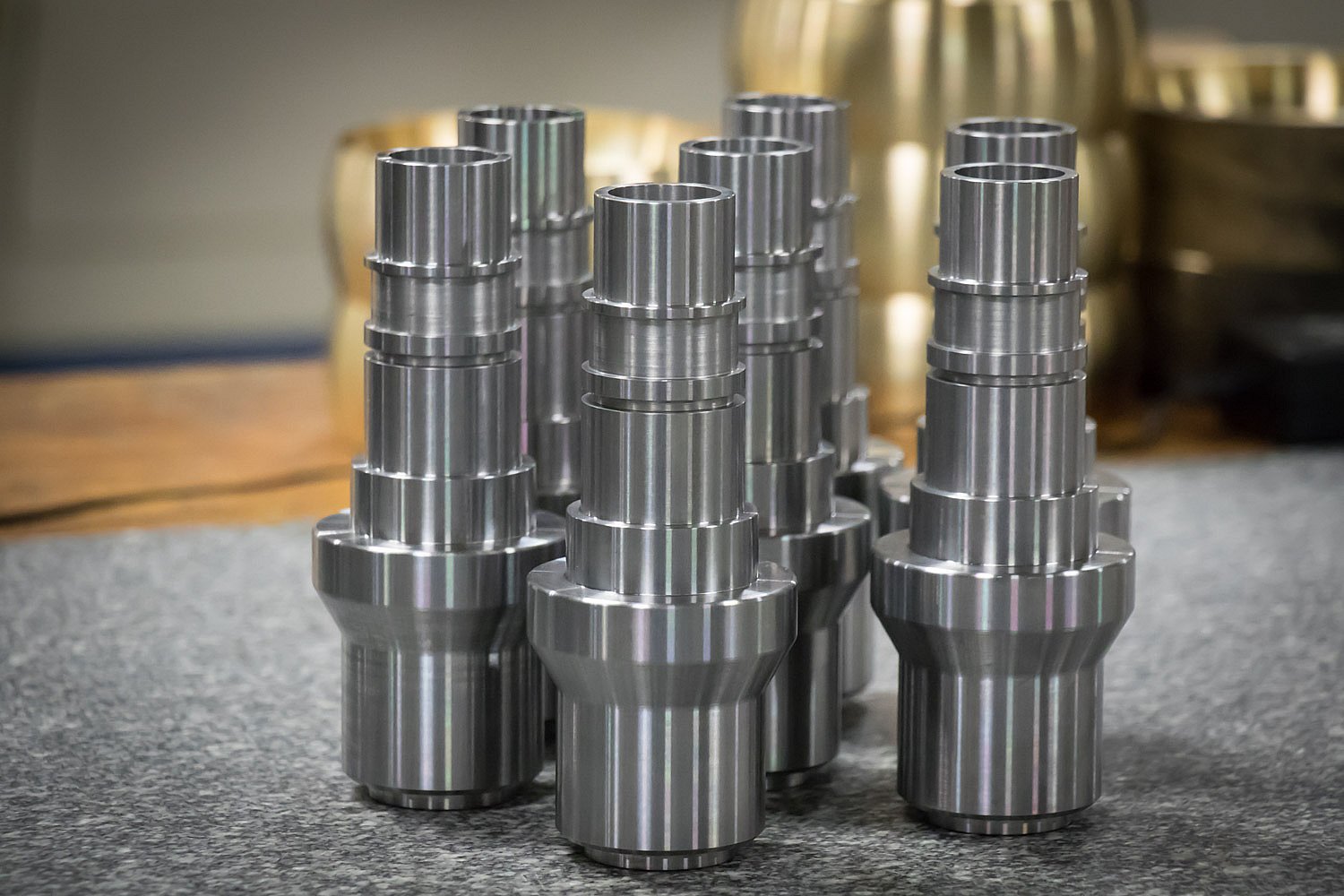 Our four CNC turning centers are equipped with bar feeders, allowing us to accomplish even the most difficult tasks.
Boring
Drilling
Engine turning
External grooving
Face grooving
Facing
Grooving
Hard turning
Knurling
Parting
Polygonal turning
Reaming
Spherical generation
Tapered turning
Threading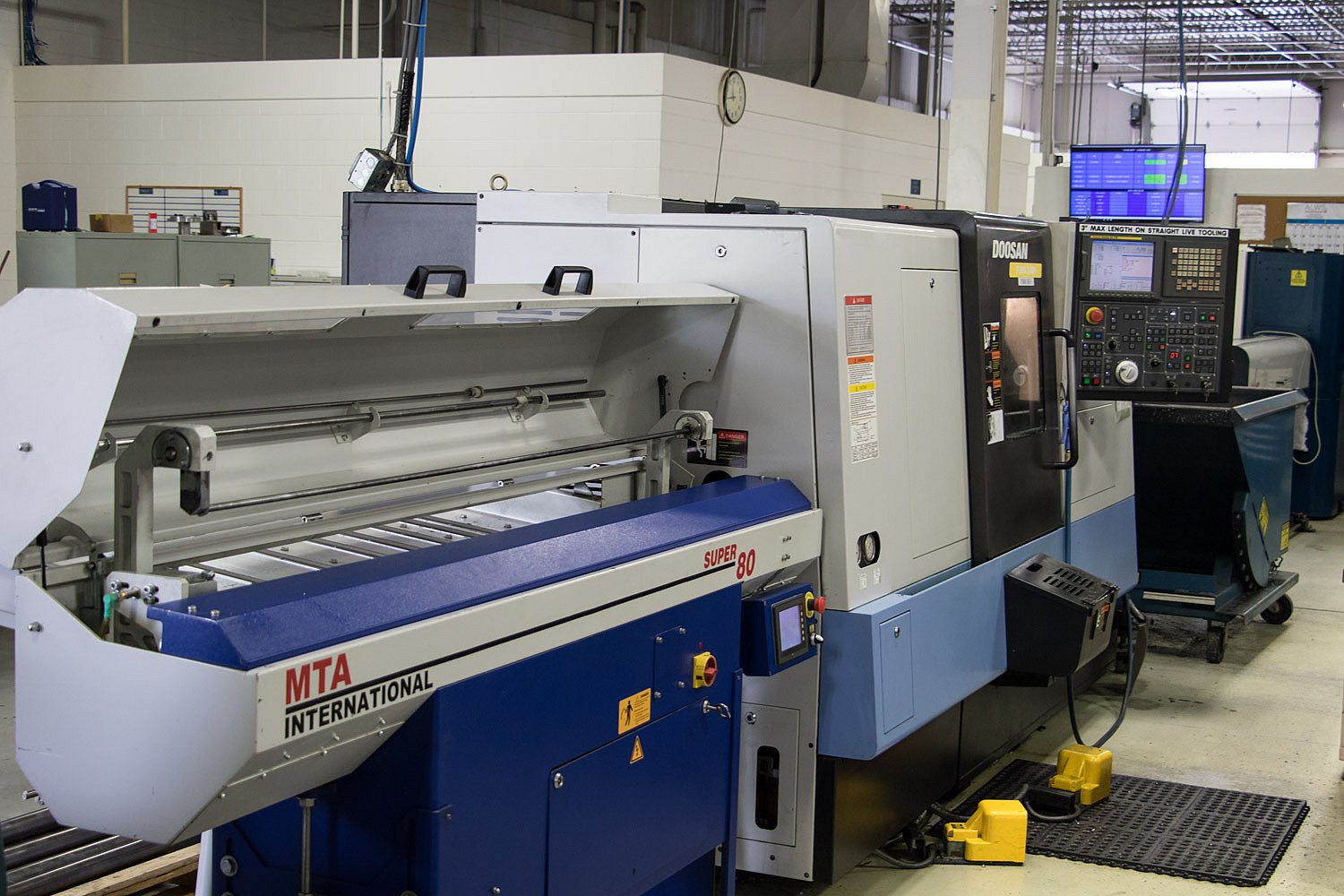 CNC Turning Equipment List
(2) Daewoo Puma 240MC 12-station turret high-performance turning center, 10" Chuck, 25 HP, 3" Collet Chuck with 3" maximum diameter bar feed, Live Tooling with parts catcher, tailstock, and rigid tapping
(1) Hardinge Conquest GT27SP with super precision, gang tool 12 foot Bar feed, 1.062 maximum diameter
(1) Hardinge HL-200-E super precision 8" chuck or 2" collet shuck with 2.0" maximum diameter bar feed
If you need a prototype part or have a short-run production project, we can get your project done fast – with competitive pricing and the highest quality.