Mold Making and Tooling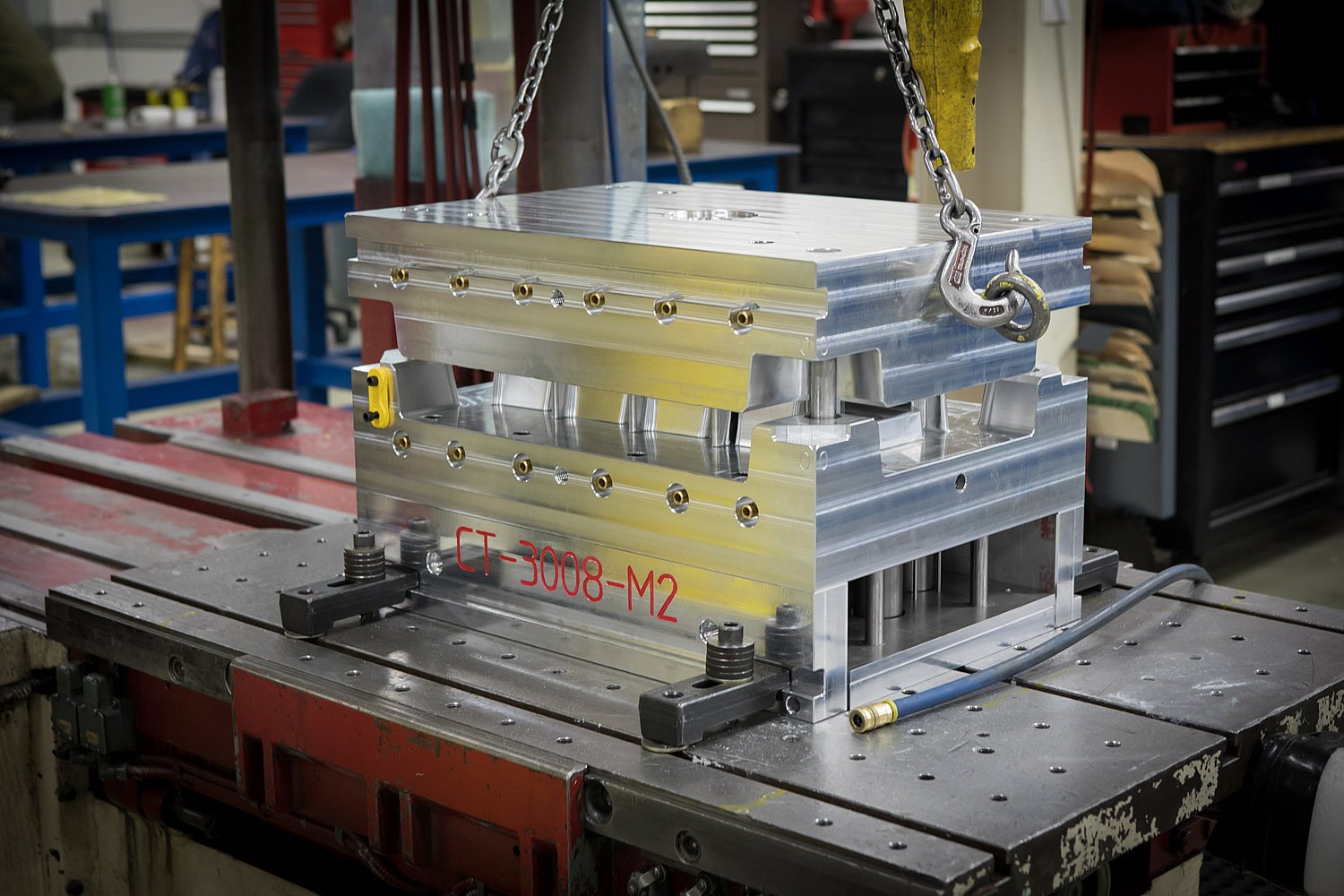 Our efficiency in getting the mold right the first time puts our customers into production faster.
Our expertise and attention to detail ensure you receive a tool that will hold up and reliably produce parts throughout the life of the mold.
We excel at perfection because we spend the time it takes up front to design and engineer an injection mold that is of the highest level of integrity and quality.
The Drive for Excellence Never Ends
"At Quest Industries, we are never satisfied. We can always do better. I hire people who are smart, want to learn, and are driven toward excellence."
–Dennis Hoover, President, Quest Industries
Quest Industries has come a long way from the early days of manually controlled machine – lathes, milling machines, grinders, and hand tools such as files.
Today our process involves setting up and operating a variety of computer-controlled machine tools to produce precision metal parts. We have graduated from sketches to blueprints to computer-aided design (CAD), and now to computer-aided manufacturing (CAM) files.
But technological advances do not replace the necessity for training, knowledge, and experience in creating a sophisticated plastic injection mold. In fact, our reliance on today's modern technology necessitates a higher-level skill set than the outmoded technology of years past. Many of yesterday's tool and die shops have developed into the sophisticated specialty mold making enterprises we see today.
At Quest Industries, we continue to invest our resources in the most advanced technology available. For instance, over the last several years, we've invested heavily in robotics – a field which has come a long way since the first CNC machines were developed at MIT in 1952.
In 1972, electric discharge machines (EDM) completely revolutionized the tool and die business. EDM technology allows us to create complex shapes that would otherwise be difficult to produce with conventional cutting tools. Additionally, we can machine extremely hard material to very close tolerances.
Today, we are seeing a whole new army of machines capable of working through the night to produce precision molds.
Plastic Injection Mold Making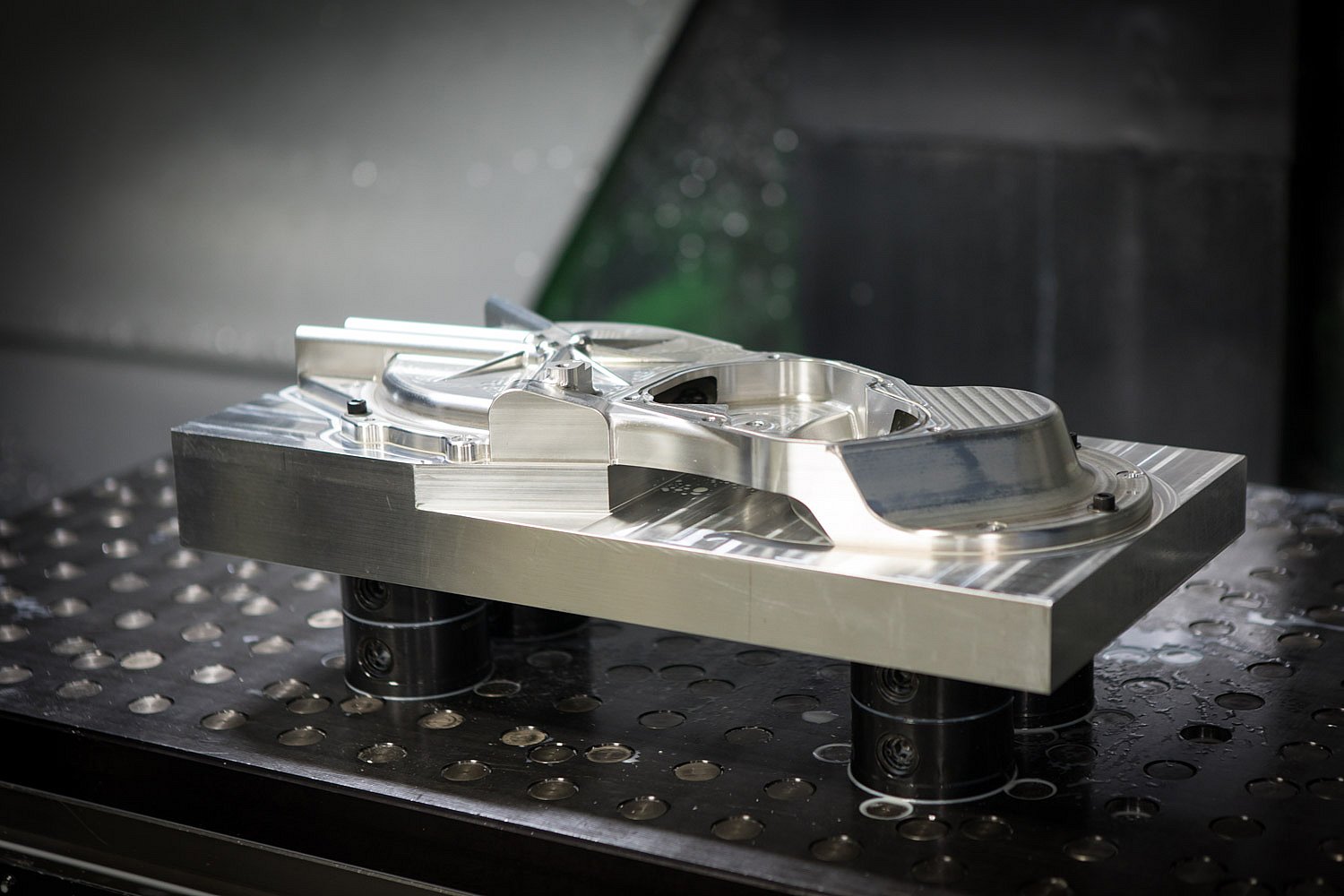 A plastic injection mold project includes design, steel preparation, rough machining, precision machining, fitting and mold sampling.
At Quest Industries, you'll have a single point of contact throughout the entire tooling process.
CAD Design
Whether it's a plastic injection mold or a rubber mold, a tool never gets better than the original engineering used to create the design. Research indicates that 70% of a product's cost is expended at the design phase of product development.
Mold Base and Accessories
Once your design is finalized, the mold base, bushings, pins and additional hardware are ordered. Hot runner systems, with lower scrap rates and faster cycle time, are becoming an increasingly important consideration in plastic injection molding; however, hot runners can take longer to deliver.
Rough Machining
Rough machining begins as soon as the mold base arrives. This process removes excess material, building the plastic injection mold to the approximate size, usually leaving 0.15mm to 0.30 mm of steel to be precision machined.

Heat Treatment
After machining, the rough-machined mold is then heat-treated to relieve stresses, reduce corrosion, and improve the life to the tool.
CNC Precision Machining
Computer Numerical Control (CNC) machining combines with Computer Aided Design (CAD), and then Computer Aided Machining (CAM) technologies are used to create tools capable of maintaining close tolerances.
Hard Milling
Hard milling is an indispensable technique for today mold makers. Hard milling machines parts in the hardened state. In many cases, this can eliminate secondary machining steps, EDM and hand polishing, saving time and money.
Quest Industries is an industry expert in advanced, high-speed and high-performance hard milling.
We have the equipment and the experience to get the job done.
Electrical Discharge Machining (EDM)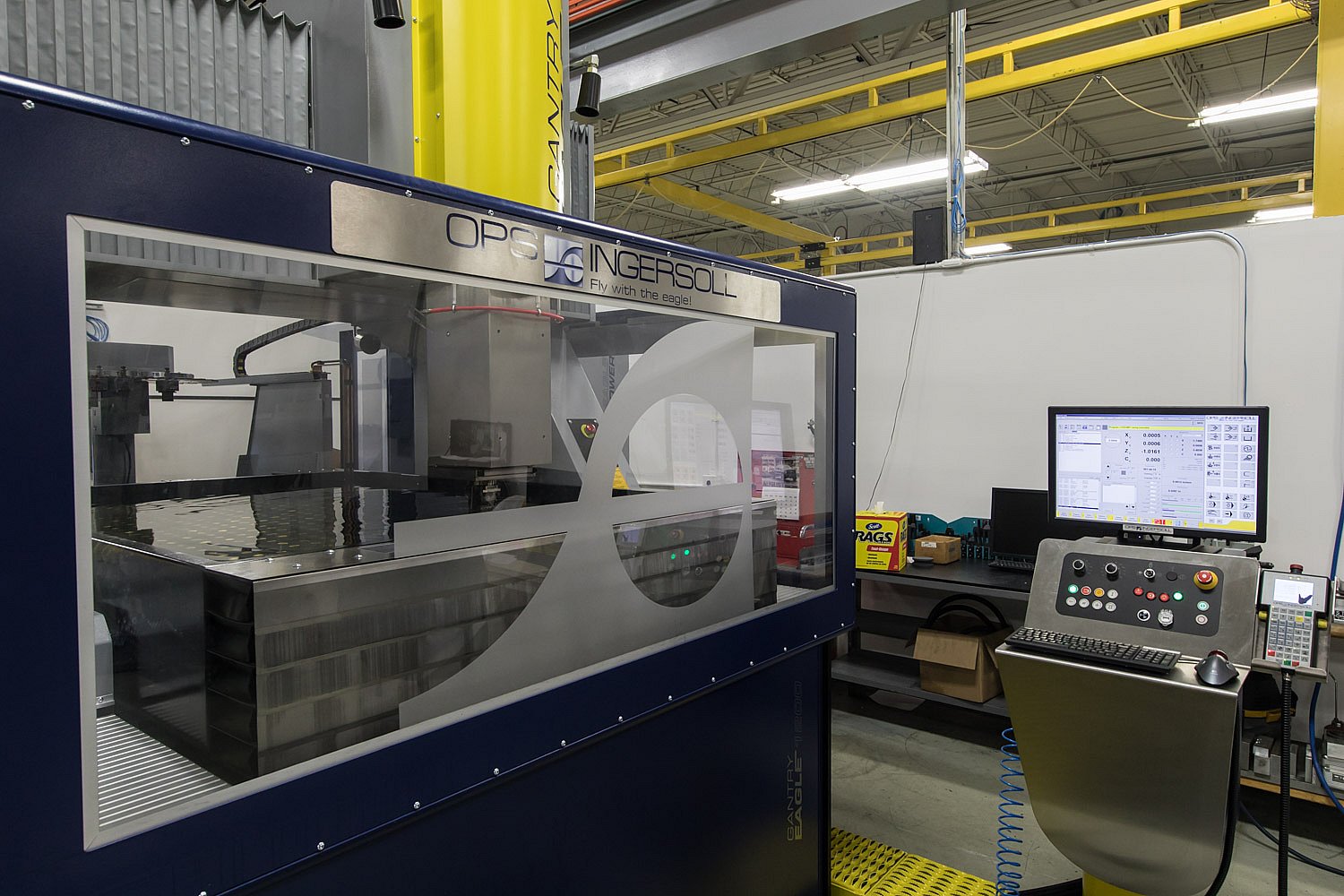 In EDM, the material is removed from the mold by a series of rapidly recurring electrical discharges between two electrodes. EDM is used when working with hard metals or when trying to create complex geometries that would be difficult to create with more traditional machining processes.
Wire EDM
In wire-cutting EDM, a thin wire, usually brass, is fed from a spool across the mold. Rapid electrical discharges between the wire and the mold remove material from the mold. Wire EDM is typically used to cut plates as thick as 300mm and to make punches, tools, and dies from hard metals. The upper guide can also move independently, creating the capability to cut tapered and transitioning shapes. Wire EDM can be programmed to cut very intricate shapes.
Sinker EDM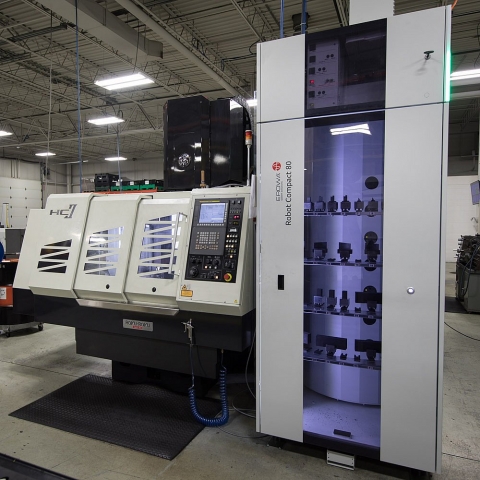 With sinker EDM, an electrode (usually made of carbon) and the mold are placed in a dielectric fluid. A current is rapidly passed between the electrode and the mold, discharging a small amount of material from both the electrode and the mold. Varying the strength and duration of the electrical current will remove more or less material from the mold. The setting can be controlled in a micro setting. This allows for precise control of both the mold geometry, creating complex three-dimensional shapes.
EDM Equipment List
(1) OPS Ingersoll Eagle 1200 CNC RAM EDM (2016), 50" x 60.7" x 26.8" MAX Workpiece Dimensions, 39.4" x 59.4" x 27.5" Travel, FCS
(1) OPS Ingersoll Eagle 800 CNC RAM EDM (2018), 31.5" x 43.3" x 18.8 MAX Workpiece Dimensions, 21.7" x 33.4" x 17.7" Travel, FCS
(1) Ingersoll Gantry style 600 CNC EDM, FCS
(1) Mitsubishi FX20K Wire EDM, 41.34" x 31.5" x 11.61" MAX Workpiece Dimensions
Fitting and Polishing
Polishing removes all machining and grinding marks, and delivers a tool that achieves the design specifications for both fit and texture.
Sampling
Our injection mold sampling process includes production testing to examine any issues that could affect the moldability of a part. Gating, venting and ejection issues are reviewed and corrected.
Rubber Mold Making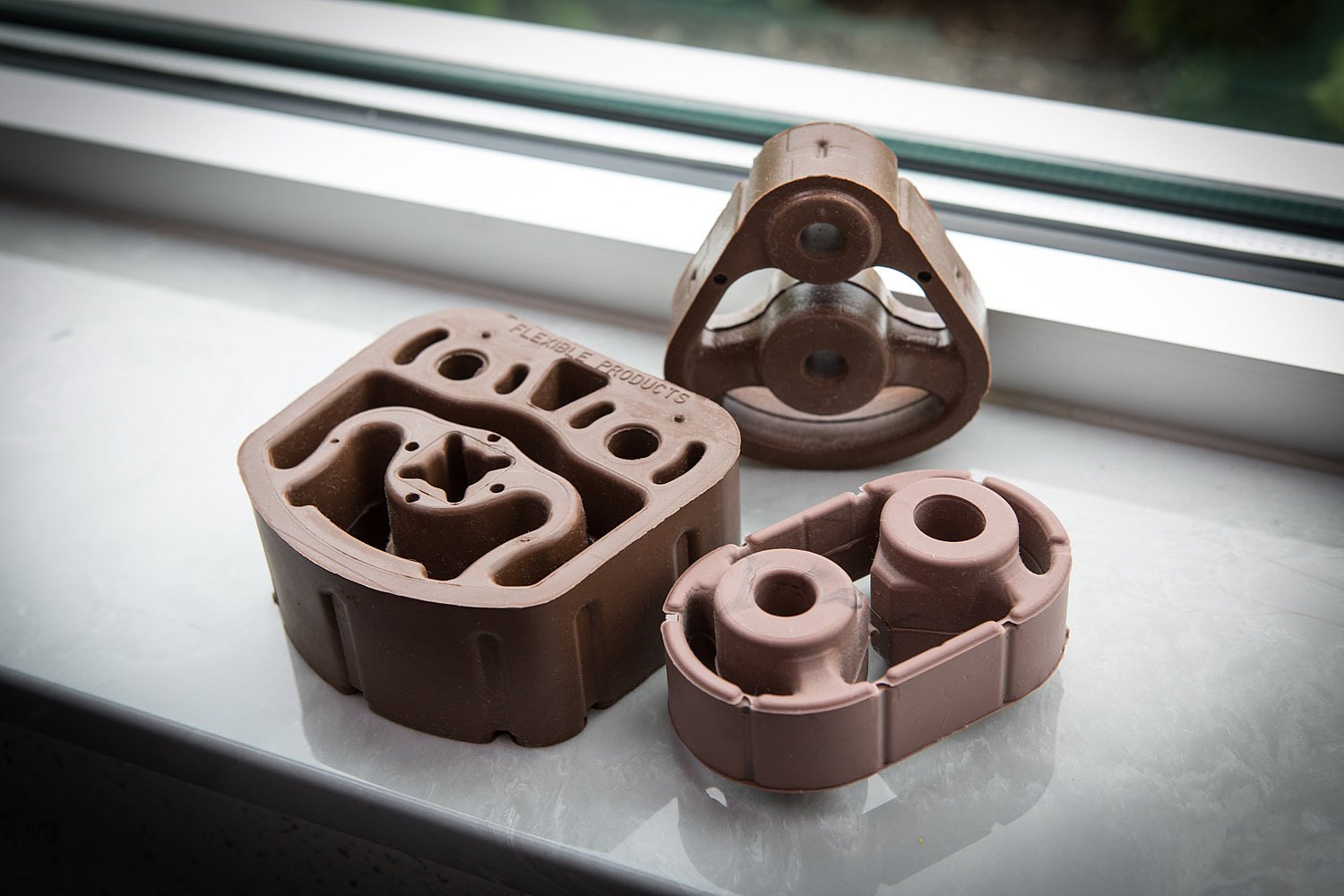 Rubber mold making is based on the same process as plastic injection mold making. However, rubber injection molding alters the injection mold process by heating the rubber and placing it under more pressure than in plastic injection molding.
Rubber molding is also cooled under more pressure than plastic injection molding.
With recent innovations in rubber molding, rubber injection molding has become one of the most efficient ways to create molded rubber products.
Recent advances in microcellular technology have resulted in numerous benefits to manufacturers. For instance, microcellular polyurethane (MCP) foam is now being used to make soft, lightweight components without sacrificing mechanical strength.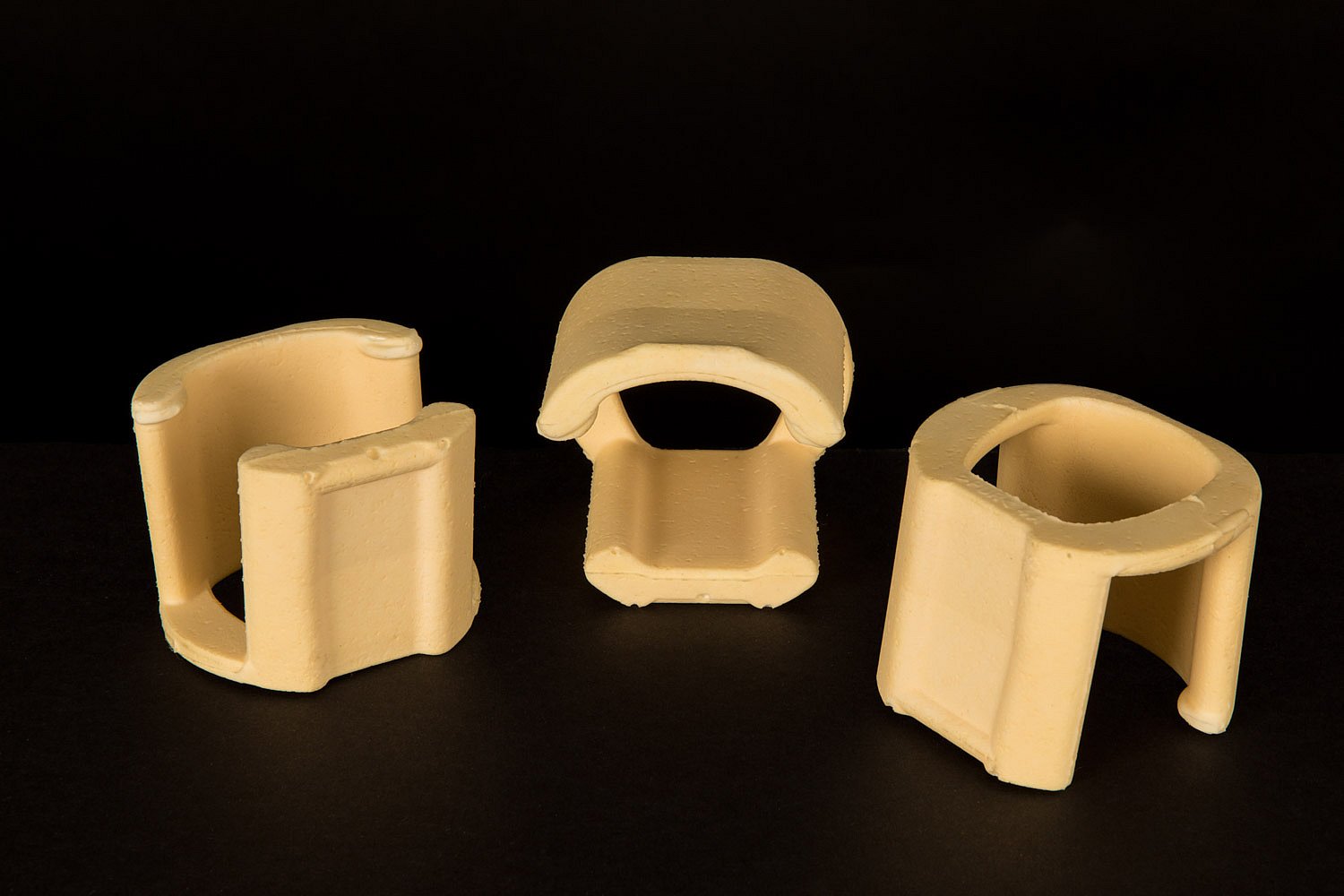 At Quest Industries we build the MCP tools you need to produce smooth, complex parts with a significantly reduced weight. Our tools enable the production of high-quality plastic parts with enhanced dimensional stability, all while using less material and energy.
And because our MCP tools produce parts that are ultra-smooth for painted finishes, the process time is also reduced. In short, manufacturers who replace standard thermoplastics with MCP can realize significant cost savings.
MCP foam has numerous applications, including:
Tooling and molds for low-temperature processes
3-D signage
Design prototypes
Architectural models
Topographical maps
Decorative moldings
When used as a tooling material, MCP produces remarkably crisp edges with exceptional dimensional stability. It's also an excellent alternative to wood when manufacturing outdoor signs and displays. Overall, manufacturers are finding that by using MCP instead of standard thermoplastics, they can save material and energy, and reduce cycle time—all while improving dimensional stability.