Injection Molding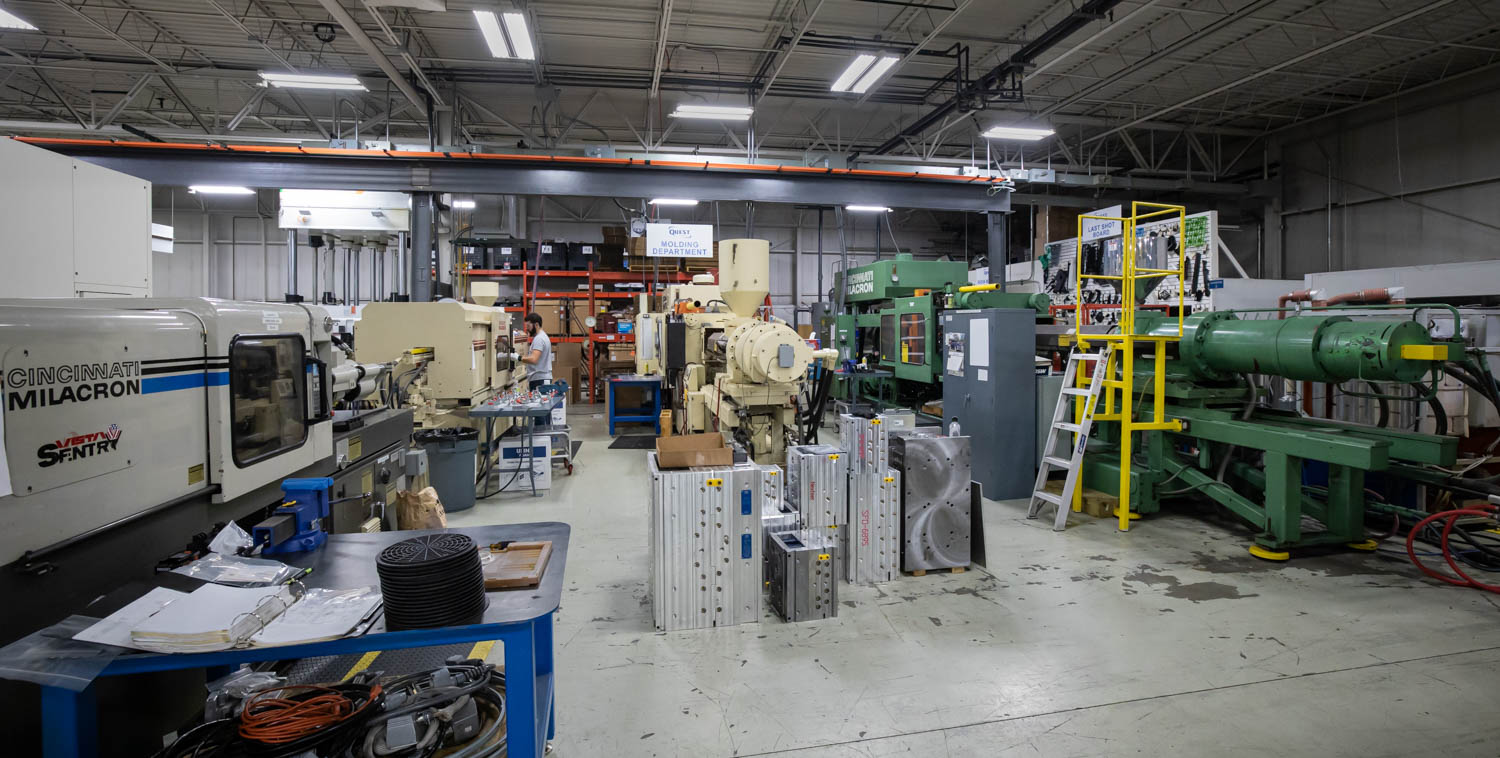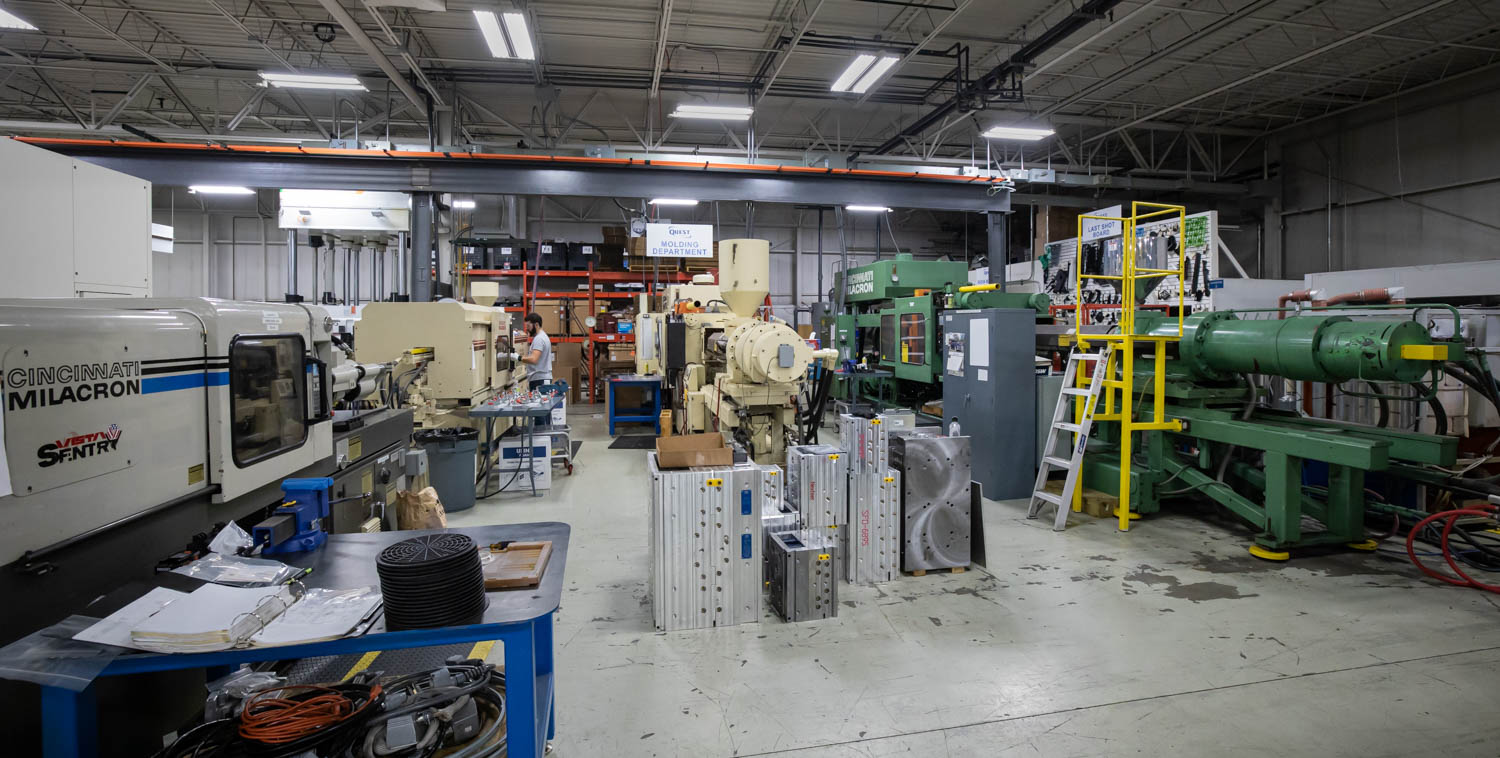 If you're looking for one company to take your plastic part from print to production, look no further.
Our Injection Mold Department has the ability to run in-house trials, prototype orders, or production orders. With years of set-up and run experience, we prove out tooling functions and provide quality parts.
In-House Injection Mold Sampling – Getting You into Production Fast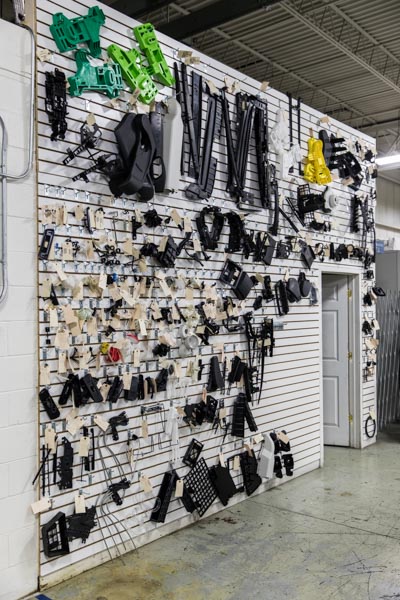 Recently Molded Parts
The initial process of injection mold sampling can take weeks, consuming hours of lost production due to tooling issues not realized until it has already broken into your production schedule. Quest Industries has a proven process of delivering quality production-ready molds. You get into production fast.
Our injection mold sampling verifies that the tool meets specification. We provide a baseline molding process, plus you'll have parts for first article inspection.
Sampling your injection mold at Quest Industries, where the mold is designed and built, saves you time and money. This allows all mold functions to be proven before leaving our facility. You can have 100% confidence when you run our mold that it runs the first time correctly.
Prototype Plastic Injection Molding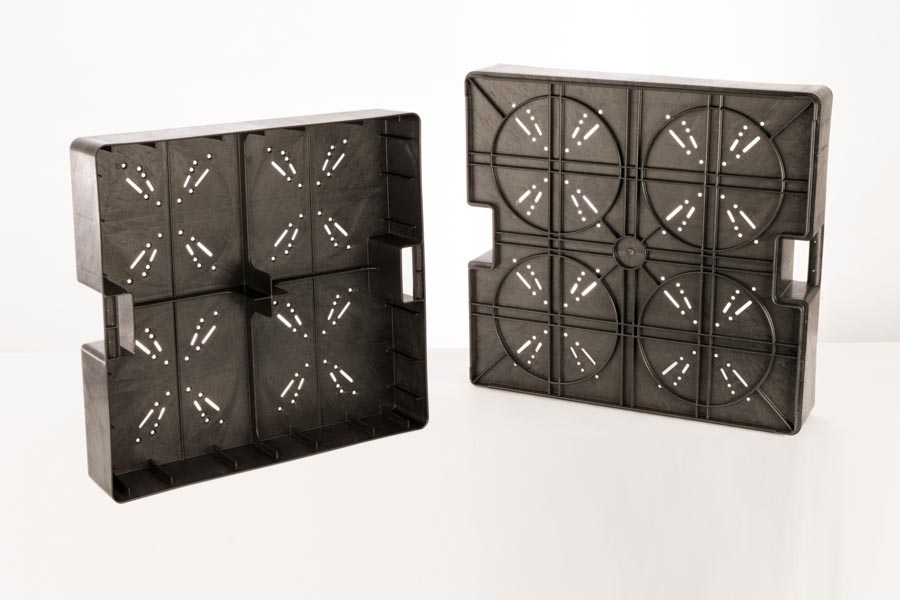 Prototype and Low-Volume Molded PartsPrototype plastic injection molding is best suited for on-demand production, bridge tooling, pilot runs, and functional prototyping.
We specialize in various types of prototype tooling and molding requirements to get your production-intended parts faster. We have extensive experience with molding various materials including TPU, polycarbonate, acetal, PEEK, PA6/66/12, ABS, poly butyl and many more! We offer knowledge in various types of fillers, reinforcers, colorants, additives, unique polymer blends and many more, to assist you with the troublesome process of proving out a part concept in the prototype phase.
We do what it takes to mold your prototype parts faster, and more accurately than our competition. We utilize Handload mold designs, homemade hot manifold concepts, custom fixturing (if required) and much more, to get you production parts fast. With a full CMM inspection capability, we can offer a thoroughly inspected part, further reducing to downstream build complications.
Quest Industries plans on investing in future equipment to further our customers' satisfaction and to reduce lead times in part deliveries. We plan on implementing hand-held laser scanners to get on-the-fly overlaid data to CAD; we can then quickly determine if we must change our part process, design cooling/holding fixtures, or if the mold geometry is wrong. This gives accurate and fast information to us, ultimately reducing reworks and rejects when you receive parts from us.
Give us a call. We offer options to get your parts through prototyping and out to the market fast.
Low-volume Production Molding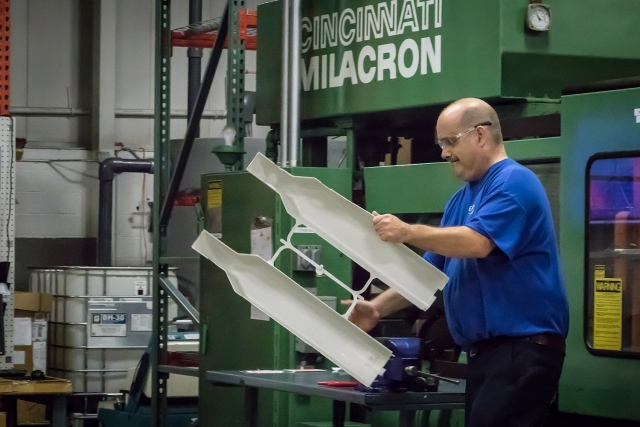 short-run plastic molding and tryoutQuest Industries offers short production runs to assist our customers when their press time is valuable and in high demand. Our production molding ranges in many forms of quantities, parting difficulties, inspection requirements, etc. Let us know what your program entails, and we can most likely deliver what you need!
At Quest industries, we've implemented electronic scheduling through our ERP system to provide our customers with an accurate reflection of press availability, expected delivery dates, deviations in schedules, etc. Scheduling allows Quest Industries to accurately make the most out of our molding machines and reduces the overall lead time for our customers. It also gives us accurate information to control our production runs.
Quest Industries offers specialties in low-volume production molding of all difficulties, including horn pin actuated slides, hydraulically actuated slide actions, lifters, stacked actions, CO2 cooled core pins, conformally cooled inserts, etc. No matter the complexity, Quest Industries can handle it.
INJECTION MOLD PRESSES AND EQUIPMENT
(1) Cincinnati Milacron 85 Ton Plastic Injection Molding Machine, 4.4 oz. shot

Maximum Mold Height= 13"
Minimum mold Height = 4.9"
14.2" H x 11.8" V Between tie bar spacings
Hydraulic Core Pull option
(1) Cincinnati Milacron 165 Ton Plastic Injection Molding Machine, 11 oz. shot

Maximum Mold Height= 15"
Minimum mold Height = 5.9"
17.9" H x 16.7" V Between tie bar spacings
(1) Cincinnati Milacron 250 Ton Plastic Injection Molding Machine, 48 oz. shot

Maximum Mold Height= 29"
Minimum mold Height = 6"
32" H x 32" V Between tie bar spacings
(1) Cincinnati Milacron 500 Ton Plastic Injection Molding Machine, 70 oz. shot

Maximum Mold Height= 40"
Minimum mold Height = 15" (spacer Plate available for shorter molds)
32" H x 32" V Between tie bar spacings
Hydraulic Core Pull options
Integrated with Pneumatic Valve-Sequence controller
(1) TempTek Cooling Tower System
(1) Zone Controller (12 Zones)
(1) Valve Gate Manifold System
(1) Motan 4 Bank Dryer System
(1) PPE Dryer with 225 lb Hopper
(1) Cincinnati Milacron Dryer wtih 150 lb Hopper
(3) Fluid Control System Heaters, 230 volts @ 6GPM/30PSI